Jeweller Icon
| | | |
| --- | --- | --- |
| | | |
| | |
| --- | --- |
| Jeweller Icon | |

Icon sizes: 256x256, 128x128, 48x48, 32x32, 24x24, 20x20, 16x16, 512x512
File formats: ICO, GIF, PNG, BMP


Purchase entire Desktop Crystal Icons now!
View Desktop Crystal Icons now!
Download demo icons
The Practical Applications Windows Icons and How to get them?
Are you sick of noticing the same windows icons on your desktop? Here are easy instructions on how to changethese tiny graphical depictions and where you can find interesting icons to build your personalindividual icon collection.

Windows XP has made extreme use of computer animations which is the foremost rationale for its popularity. The creative GUI or graphical user interface makes it simple for even the novice user to inputinformation with relative ease. If you need to access a file, all you have to do is click on the graphical image or the Windows icons on the screen. You can also change these windows icons to make the look of your desktop suit your liking.

If you are pondering over why you should go through the hassle of altering the computer graphics, the logic is very simple, computer users get tired of displaying regular icons day after day and altering the Windows icons can offer a novel work environment for computer users who work long hours on computer. This just means that choosing never before used computer graphics can literally help to improve your work productivity. If you have not tried altering the graphicson your desktop as yet; here are certain easy guidelines that will make the task troublefree.


The first step is to; needless to say, start the desktop or laptop and let Windows boot normally
As soon as you are on the desktop, click on the start menu which is at the lower right hand side of the screen; this will cause a menu to come up, you should see the tab "My computer" and click on it. An alternate way is to open the computer storage is by clicking twice on the web graphics representing "my computer" on the monitor; this is usually the first image on the desktop; , the icon will only be on the screen if the icon has been enabled on the desktop.
The next step is to find the program associated with the icon. You will need to find out the position of the file on the hard drive or you can see the search option in the start menu to look for the file and know its exact position
After finding the application, right click on it and a menu will be seen, click on the properties option..
Its relatively easy to find the the option for "change icon", clicking on it will lead you to another menu that will include a list of icons that can be used for the selected application. However, often, you will not see the change icon tab, in this case, you should create a desktop icon; to do so, click on the cancel button of the properties menu and tap your finger on the right side button of the mouse to go to the initial menu, here you can noticeanother option that says "send to desktop" or "create shortcut", point and use your mouse on this button and go back to the initial screen, you should now see the application with the standard Widows icon. Now, you can right click on it and change the icon.
If you cannot find the web graphics that is to your liking in the dropdown list, go through the system to look for a preffered image

Where can you get eye catching icons? There are a myriad of websites that provide free image libraries; actually, many of theselquite a few of these businesses feature web graphics for varied ares of work. If you don't like the feel of the free graphics, windows icons are readily available at cost effective rates.




Individual Ready Icons
You can buy individual icons to suit your needs. Each icon is $1 when purchased individually.
Icon Usage Agreement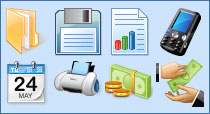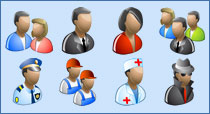 This icon library gets you a variety of icons top quality and high resolution. They are good to be used for personal desktop customization, for application icons, web, or even as toolbar icons.
Large Weather Icons
depict a number of weather conditions that are common for software, weather Web sites, and mobile gadgets. The icons come in typical sizes standard to Windows, Mac OS, and other systems. The largest versions are huge 512x512 pixel icons with vector sources in Adobe Illustrator (.ai) format easily affordable and ready to be printed or used in presentations in highest quality.
Desktop Device Icons
are good to be used in personal desktop enhancement, for application icons, or toolbar icons. This set has it all, from 256x256 Vista sized images to 16x16 toolbar icons.
Software Toolbar Icons
is a collection of top-quality handcrafted images created by professional artists for developers and webmasters. This icon collection covers a broad range of software-related topics.
Small Toolbar Icons
will give new life to your interfaces and add a great value to your software or website. This icon pack includes everything you need to create your project's design.